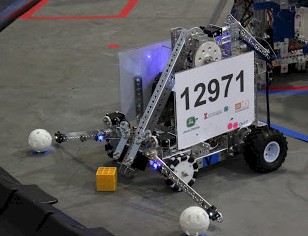 FTC Teams 12971 Ctrl-Y and 15042 Ctrl-X were started by Ctrl-Z in 2017 and 2018 respectively. The two teams together have about fifteen students who are in grades 7th - 9th. In the 2018-2019 season, both Ctrl-Y & Ctrl-X compete in the Illinois Central East League with 15 other teams, ran by FIRST Illinois Robotics. Ctrl-Z students and coaches work with these students to help them design, build, program, and compete with their robot each year. If you, or someone you know, is interested in joining the team, email contact@team4096.org to learn more!
Their 2018 league meets are
Saturday, November 10th in Champaign, IL
Saturday, December 8th in Decatur, IL
Saturday, January 19th in Bloomington, IL
Their league combines with Illinois Southern league in the league championship which is on Saturday, February 9th in Troy, IL! See Ctrl-Y's results here and Ctrl-X's here! For more information, check out FIRST Illinois Robotics' website!